Northern Germany: 6th till 26th of August 2020
Despite COVID 19, this summer I had the opportunity to cycle in Northern Germany and used that experience as a kind of Pre-CASP exercise. My tour went from Hamburg up to the Baltic Sea (Travemunde) and from there towards Flensburg, along the border of Denmark towards the Wadden Coast of Germany. From Dagebűll I followed the NorthSea-Coast Cycle Route to Bad Nieuweschans, which fitted in the CASP2020 program.
The exercise was focused on: mouth masks and CASP-inventory at beaches and estuaries.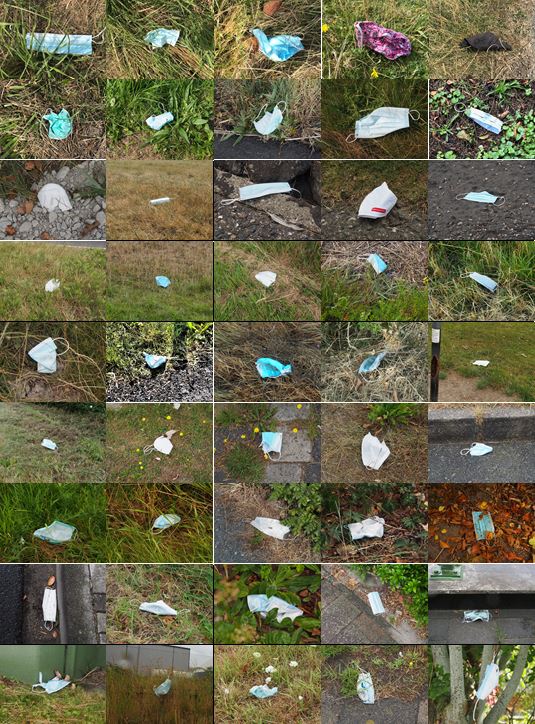 All the blue dots refer to the coordinates where a mouth mask was recorded along the North Sea Coast Cycling route. The red dots refer to CASP inventory spots.
The mouth masks along the way
Since half of June 2020, in Germany non-medical mouth masks are mandatory inside buildings, public transport and other places where no 1.5 m distance is possible. While cycling I frequently noticed mouth mask lying near the cycling path. To get an impression about the numbers and distribution along the North Sea Coast Cycle Route, I took pictures of most of them and toke their coordinates.
My rough personal estimate is that some 60-70 % of the masks worn in public is disposable. My findings show that only 3 out of 81 lost ones are non-disposable, which refer to < 4 %. So although still some 30 % of the people wear non-disposables, the ones on the street are in majority the disposable one's.
So my first conclusions are:
Masks are not purposely thrown away (many look unused in the pictures) but probably lost. I saw a majority of people tie them up loosely at their arm or the handle of their bike.
Everywhere near the path I could find them, but highest concentrations are along popular roads (near camping's, walking or cycling paths and bathing areas). The high concentration on the bigger roads near Cuxhaven and Bremerhaven are probably due to high industrial activity. These areas were characterized by a lot of other debris as well. In the inner cities hardly mouth masked where found, probably due to regular local council cleaning
Since the percentage of found non-disposable mouth mask is so small, it is advised to support the use of these ones in campaigns by the authorities. Probably people are most likely to collect them when they accidently fly away or fall down.